In 1958 Del J. Doyle and Bob Ogden established Doyle & Ogden Insurance.  Their goal was to provide the greater Grand Rapids, MI area with a full service, independent agency that offered choices in insurance protection.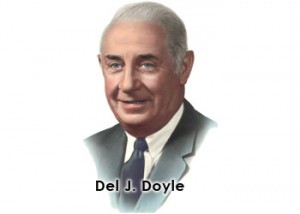 Since then we have grown from a staff of less than 5 employees in a small office on Lake Dr. to over 40 employees with offices in Grand Rapids, Rockford, and Rochester, MI. Over the history of our company we have been fortunate to have been led by Del Doyle and his sons John Doyle and Michael Doyle.  John directed the company after Del's passing until his own retirement in 2006 and presently we are directed by Michael Doyle. Their commitment to their family, their employees, the community, their customers, the environment, and doing business the West Michigan way has made Doyle & Ogden the company it is today.
Much has changed since 1958 but one thing remains the same.  Every team member is committed to providing each customer with the excellent personal service they deserve, the coverages they require, and all for the best value.
Doyle & Ogden is your "Single Source Solution" for all your insurance needs.