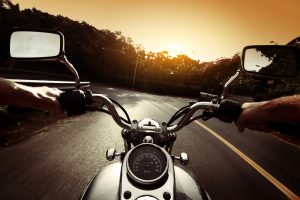 Summer is the perfect time to ride your motorcycle here in Michigan, and with summer approaching, it's important to refresh yourself on some riding basics. If you regularly ride a motorcycle, you're likely already aware of the universal hand signals used by motorcycle riders and have probably used them yourself. But even if you never get on a bike, you share the road with motorcycles. We also have a handy image guide at the end of this post to give you a visual idea of these hand signals. Follow this link if you're looking for Motorcycle Insurance information.
Here are the hand signals you should know (and use) out on the road:
Essential Motorcycle Signals
Right turn: Left arm out, bent at the elbow at 90° with a closed fist.
Left turn: Left arm extended, palm down.
Stop: Left arm extended down, palm facing back.
Hazard in the roadway: Left arm extended, pointing with index finger toward the ground and right foot pointing toward the ground.
Turn signal on: open and close left hand.
Group Motorcycle Signals
Speed up: Left arm extended, palm up, upward motion.
Slow down: Left arm extended, palm down, downward motion.
Follow me: Left arm extended up, palm forward.
Single file: Left arm extended up, index finger up.
Double file: Left arm extended up, index and middle fingers up.
You lead/come: Extend your left arm up at 45° angle, pointing with the index finger, waving back to front.
Pull off: Left arm extended, vertical waving motion in toward the body.
Fuel: Point to tank with the left index finger, arm extended.
Comfort stop: Left arm extended, closed fist, in short, up and down waving motion.
Refreshment stop: Left fist closed, thumb to mouth
When out riding your motorcycle this summer, make sure you're signaling properly to protect yourself and others on the road. If you're in a car or other large vehicle, be aware of motorcycles on the road and pay attention to their hand signals.
Give the experts at Doyle & Ogden a call at 616-949-9000!
Tags:
motorcycle hand signals
,
motorcycle safety
Social Share