Michigan Commercial Trucking Insurance 101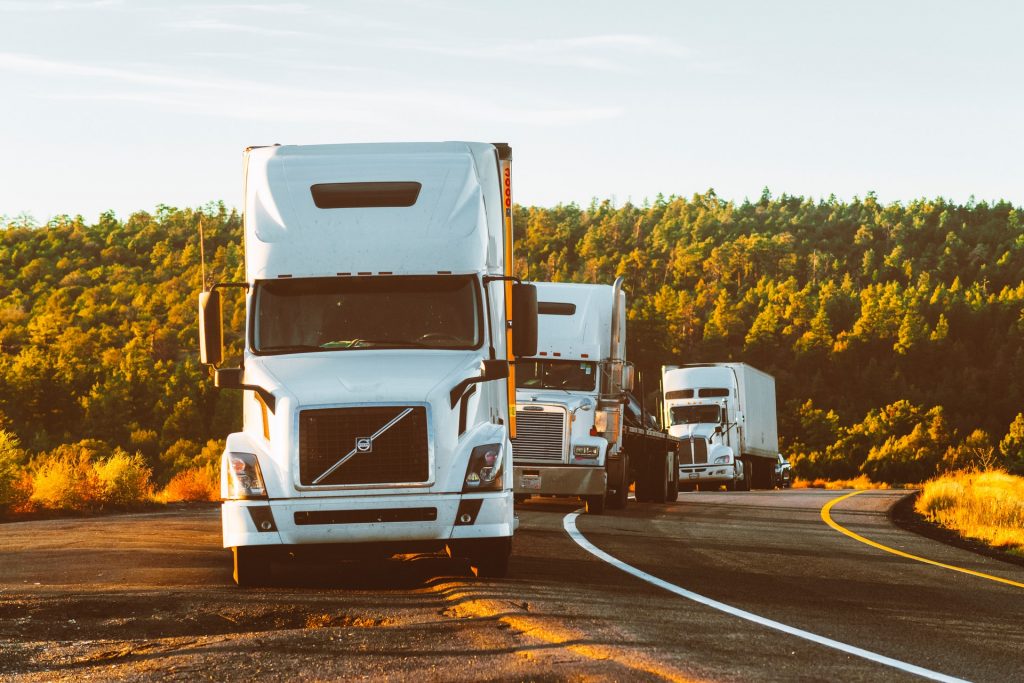 Truckers General Liability Coverage
We like to refer to this as truck terminal operations liability. Typically, it is liability for when the owner is outside of his truck. Auto liability does not cover activities when the owner is outside of his truck. General liability is a policy that covers bodily injury or property damage done to a third party. One possible scenario is an owner is supervising the loading of his truck trailer. He accidentally bumps the controls on hi-lo and it jerks forward and injures a dock worker. This example would not be covered by automobile liability but would be contemplated by a general liability policy. Another reason general liability policies are important is there are many entities, for example Amazon, that require general liability as part of their middle mile contracts. Unfortunately, many truckers are not aware of and don't carry this very important coverage.
Primary Auto Liability Coverage
Primary auto liability is for trucking companies that are operating under their own authority. Motor carrier operations need primary auto liability, which is full-time automobile liability on the truck(s), whether they're hooked up to a trailer, traveling on the highway, or not. As long as a covered auto is under dispatch, primary auto liability provides liability for the carrier and any owned or operated tractor operating under the motor carrier's authority.
Federal motor carrier law requires motor carriers to have a $750k liability policy, which covers anyone under their direct dispatch. Today, the industry standard for this type of coverage is $1 million in liability coverage.
Physical Damage Coverage
Physical damage coverage for truck and trailer equipment in general can be added to commercial auto policies of all kinds. Any owner with their own equipment will want this coverage to protect their truck and trailer equipment from physical damage or loss. Physical damage coverage, often referred to as comprehensive and collision will cover things physical damage to scheduled equipment. Typical examples of physical damage loss include collisions with other vehicles or stationary objects, fire, theft, vandalism, malicious mischief, falling objects, deer hits, and acts of God. There is also a special physical damage policy called inland marine coverage. This type of policy is best for aftermarket installed equipment such as auxiliary power units, generators, etc.
Non-Trucking Liability Coverage
Non-trucking liability is different from primary auto liability. Motor carriers carry primary auto liability as a requirement of their federally granted motor carrier operating authority. Non-trucking liability allows owner operators to be compliant with road laws while they are not under the direct dispatch of the motor carrier they are leased to. Non-trucking liability covers bodily injury and property damage liability. The motor carrier's primary auto liability would cover the owner/operator when they're under dispatch. The owner/operator's non-trucking liability covers them when they are not under dispatch.
Whether or not non-trucking liability kicks in depends on the yarding location. Primary auto liability covers from the yard out and back. Non-trucking liability covers when the scheduled unit is operated for personal use, like an oil change, or moving from one yarding location to another. Without this coverage, owner operators can find themselves in situations where they are driving without the lawfully mandated liability insurance.
Bobtail Coverage
Bobtail was the original owner/operator coverage. Bobtail, for the most part, has been replaced by non-trucking liability.
There is a subtle but very important difference between non-trucking liability and bobtail. Let's say a motor carrier dispatches an owner operator to drop off a load in Chicago. After the delivery, there may be a wait of a few hours until the next shipment is ready for pick up. Bobtail would cover the liability exposure between loads. Non-trucking liability would not.
If the owner/operator were to get into an accident in this time between loads and was covered by the old bobtail product, both the bobtail policy and the dispatching motor carrier's auto liability provider would cover the loss resulting in overlapping coverage. This overlap would often result in long lasting legal disputes between insurers regarding who was responsible for paying the claim and in what amounts leaving the owner operator in the middle of the lawsuit with no solid answer as to when the claim might be settled and being pulled into court battles between insurance companies that could last for months or even years.
Non-trucking liability solved this problem as it clearly defines when the motor carrier's coverage begins and ends, eliminating the coverage overlap that caused the settlement disputes that occurred in the past with Bobtail. When the owner/operator leaves the yarding location, any liability exposure would then fall under the federally mandated motor carrier liability policy.
Motor Truck Cargo Coverage
Motor truck cargo is coverage for the value of the load being transported on or within the trailer. Standard recommended motor truck cargo limits for dry freight operations is $100,000 with available limits up to $250,000 or more with prior approval. The value of the load is usually determined based upon a contractual obligation in the form of a bill of lading.
Trailer Interchange Coverage
Trailer interchange coverage is purchased as a result of a written requirement in the form of a contract between a motor carrier and the entity who owns the trailer. For example, Amazon's middle mile contract requires the motor carrier to insure Amazon's trailers for a value of $50,000. The trailer interchange coverage would provide comprehensive and collision coverage for this non-carrier owned trailer while in their care, custody, and control.
Bailee coverage can also be added to the motor carrier's policy and can be utilized in the absence of a written contractual requirement. Non-written obligations such as a gentlemen's agreement to cover non-owned trailer physical damage or an informal and legally non-binding agreement can then be covered by bailee coverage.
Medical Payments
Medical payments or med pay coverage is usually a lower limit, somewhere between $5,000 and $25,000, that is added to the policy to cover the owner and any passengers for injury sustained while on or operating a scheduled unit. Typically these are very cost-effective policies. Passengers are almost never allowed in a commercial trucking exposure. Med pay would cover medical, auto-related injury to the driver or any passengers up to the specified limit.
Personal Injury Protection (PIP) – Michigan Specific
Some states, like Michigan, have state-mandated medical coverage (personal injury protection or PIP) built into all auto policies sold in the state. As of 07/01/2020, Michigan Auto Insurance Law changed giving consumers the ability to make PIP medical coverage limit choices other than the previously mandated unlimited medical offering. The PIP options now include unlimited, $500,000, $250,000 or if you have a qualified health insurance plan or Medicare parts A & B you can potentially elect a limit of $50,000 or drop the coverage altogether. We recommend speaking to your agent about this coverage before choosing a limit other than unlimited.
Under the non-trucking policy, medical payments coverage would extend to the driver while the driver is under dispatch whereas PIP coverage would extend only while not under dispatch. Remember that workers compensation is the exclusive remedy for employees injured on the job or for uninsured subcontractors. While under dispatch, drivers will fall under the carrier's workers compensation policy.
Reefer Breakdown Coverage
Reefer breakdown coverage refers to specific coverage for refrigerated, or reefer, trailers that haul frozen and fresh food. The coverage will apply if the refrigeration unit fails to keep the adequate temperature needed to prevent spoiling. It's a separate coverage purchased specifically for this operation type and it covers the value of the cargo in the event of spoilage mandated by the FDA temperature requirements.
Due to FDA requirements, a trailer's refrigeration unit does not necessarily have to break down. Refrigerated loads can be rejected if the correct temperature is not maintained resulting in cargo losses and claims. Loads can be rejected even if a portion of the load is not maintained at the required temperature. For example, while the front of a refrigerated trailer closest to the refrigeration unit might have maintained a required temperature, if the rear of the trailer did not, a refrigerated load could be rejected resulting in a cargo loss and claim.
When writing these policies, the age of the refrigerated trailer is taken very seriously. New trailers have newer technology and temperatures can even be tracked by satellite now. Any trailer older than 7 or 8 years will be heavily scrutinized by an insurance provider and coverage can even be rejected if the unit is too old.
Commercial Trucking Insurance FAQs
Which types of coverages are needed for long-haul trucking vs local deliveries?
There shouldn't be a difference in the types of coverage you would need depending on whether your trucking operation is operating in one state or across state lines.
One thing to note: if you are based in Michigan, but do have drivers and owners/operators in different states is that your workers compensation policy is relegated on a state basis. Companies can have drivers all over the country, but then the workers compensation has to have an all states endorsement. This provides drivers with the choice to choose workers comp benefits from the state they live in, or from Michigan. If you don't have that endorsement, they're stuck with Michigan and it could create problems for the drivers to receive medical treatment.
The big difference between long-haul trucking coverage and local trucking coverage is going to be the price, since prices are based, in part, on the radius of operation. If you operate interstate or outside the state of Michigan at all, you'll need a federal filing from your insurance company. Agricultural products are exempt from this federal motor carrying operating requirement.
Does coverage change based on how many trucks or drivers are covered?
Again, the policy coverages needed don't change, just the price. There can be price breaks if a policy is covering a "fleet" of trucks. Different insurance companies define the term fleet differently. A fleet could be 5 or more, it could be 10 or more, depending on the insurance company.
How much does commercial trucking insurance cost?
This depends from driver to driver. Different price factors include driving records, radius of operation, value of equipment, past claims & safety scores, years of driver experience, cargo limit selection, and whether the trucking operation is contracting with Amazon or other companies, since they require additional coverage. For fleets, the most important factors are safety scores, radius of operation, and years of driver experience.
If you are a new trucking operation, with no experience or no prior insurance, you're going to pay more than an established operation with a seasoned fleet of drivers with very little turnover. In this case, you could expect $20,000 a unit for a non-experienced trucking operation.
At Doyle & Ogden Insurance, we conduct a careful interview with each client to gather all this information, we learn about your growth plans, your drivers, and any specific individual factors that will affect coverage and price. This affects what insurance company we partner you with, as well as your price. We can come up with a rate within a few days of this in-depth interview.
Two owners/operators in the same county, with similar equipment, similar contracts, similar cargo, can pay very different rates. Even a small speeding ticket or difference in insurance score can result in dramatic price differences between these two seemingly similar owners/operators.
Work with an independent agent from Doyle & Ogden to find the best commercial trucking insurance for you
Insurance for the trucking industry is very limited. You need to specialize in it and know what you are doing and who can write the policies that you need. Many owners/operators come to Doyle & Ogden seeking out the same coverage that a friend or family member has. What is best for another owner/operator may not be what is best for you. Let's work together to find the best coverage just for you.
In commercial trucking insurance, since it's a specialty product, insurance companies often will only work through brokers. Especially if you're trying to get a new trucking authority, your options are going to be limited, and we can help you navigate that process.
Doyle & Ogden has been in business since the 1950s and we have extensive knowledge and contracts with underwriters. We've built relationships over these years that are impossible to replicate, contact us today to take advantage of our years of experience.
Contact us today to see how Doyle & Ogden can help provide you with outstanding trucking insurance through the U.S.A.