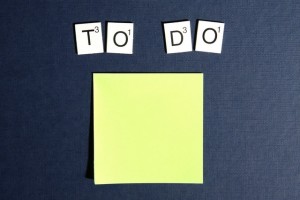 With every new year comes new life changes, moves, and opportunities. Get 2018 off on the right foot by making sure your home, vehicle, and family are properly insured so you can focus on what matters more—life. Here's a quick checklist of things to look at in your insurance policies before the new year gets too far along:
Update policies for major life changes
Think about what's happened in the past year. If you've had any major life changes—gotten married, had a baby, bought a new car or a new home—you definitely need to talk to your insurance advisor this year. Any of these major life changes can have an impact on your insurance, and present opportunities for you to find better coverage. A new home might require a bit more coverage, and you might want to upgrade coverage for that new car if it's a newer model.
Update your personal inventory
If you don't already keep an inventory of your personal belongings, you should start now. An inventory, with photos, is the best way to ensure you receive adequate compensation in the event that your belongings are destroyed in a fire or are stolen. Be sure to add all those goodies you got over the holidays to the inventory, and if you received anything expensive, like jewelry, art, or a new computer, talk to your insurance advisor about adding these items to your policy. A homeowner's insurance policy only covers so much for lost possessions, so if there's something that's special to you, and worth a bit more, you might need to take out a separate policy.
Review your deductibles
Now is the perfect time to go through each of your insurance policies to review your premiums and your deductibles. Be sure to write each deductible down, and keep the list somewhere that's easy to remember and easy to find. This will make your life less stressful in the event that you need to make a claim because you'll know immediately how much you're responsible for before your insurance kicks in. While you're looking at those deductibles, think about if raising or lowering that number would make more sense for your current life situation. Higher deductibles mean a lower premium, and lower deductibles typically mean a higher premium, so now's a good time to decide what is the best fit for you.
Have up-to-date copies of insurance on hand
You have to carry proof of auto insurance with you while you're driving, so make sure you have your most recent insurance info with you, but don't stop there. It's a good idea to have copies of each of your insurance policies handy in a filing cabinet or drawer so you can read them and clarify what you're responsible for, and what your insurance provider is responsible for, at any time.
Double-check that your health insurance still covers your doctors
Regardless of what sort of health insurance you have, it's absolutely essential that you're looking at your policy at least once a year. Many health insurance policies change often, and you'll want to make sure that the doctors you usually visit are in-network or are preferred providers before you get to the office only to be turned away. Vision care is especially notorious for changing networks often, so pay attention to that new health insurance information sheet that's emailed to the office in the new year.
Bundle coverage when you can
If you've recently acquired another car, or if your spouse had their vehicle insured with another provider before you got married, it's a good idea to consider insuring both vehicles through the same provider. Most insurance providers offer discounts for policyholders who insure multiple items through them, making bundling an awesome way to save some money. It doesn't have to be just cars, either. If you're very happy with one insurance provider, you'll save a lot of money by purchasing all of your policies; home, auto, umbrella, and life with the same company.
Consider installing security
It never hurts to install security alarms, and in some cases, it can actually save you money. Many insurance providers offer price breaks for policyholders who choose to install anti-theft devices on their vehicles, or alarm systems on their homes. Talk to your insurance advisor to see if any such discounts apply to you, and if it seems like the right decision for you, consider getting one of those security devices in the New Year sales!
Ask your agent if you qualify for discounts
Finally, the New Year brings a lot of changes, both in your own life and even in the coverages and discounts offered by insurance providers. It's always a good idea to ask your insurance agent if you qualify for any new discounts at the beginning of the year. Your new baby or recent marriage might make you eligible for a number of insurance policy discounts, but you won't know until you ask someone. Because policies change so often, you want to keep your insurance agent up to date with changes in your life to take advantage of all possible discounts.
The start of the new year is the perfect time to review your insurance policies and make changes where necessary. If you need help assessing your insurance policies this year, be sure to get in touch with our experienced advisors at Doyle and Ogden. We're here to find you the best coverage for the right price. Contact us direct at 616-949-9000, or request a free quote online today!
Social Share