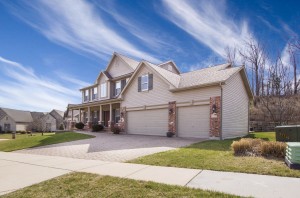 Homeowner's insurance covers quite a lot. From exterior damage to your personal possessions, homeowners insurance is a must-have protecting you from anything unexpected that life might throw at your house. Whether you're new to homeowner's insurance, or you're just wondering about what sorts of things your homeowners insurance policy covers, it's always good to be prepared, and know what you can rely on homeowners insurance for. Here are the top 4 homeowners insurance claims made here in the US, and how you can work to avoid them:
#1 Wind and Hail
It should come as no surprise that the most common homeowner's insurance claims are weather-related. There's only so much you can do to protect your home from inclement weather. You have insurance so that when things like wind and hail occur you're covered. Wind and hail most often contribute to major damage on the roof of a home, as well as the exterior. They can also do cause trees to uproot and fall onto your home causing more serious damage.
The best way to prepare for wind and hail damage is to make sure you're keeping up on your roof maintenance. Be sure to have regular roof inspections, and replace any shingles that begin to curl or tear off as soon as possible. As far as trees go, remove any dead ones or those that are close enough to pose a threat to your home and any outbuildings.
#2 Water Damage and Freezing
Winter hits hard—especially in northern states like Michigan. When snow and freezing temps arrive, they can do serious damage to your plumbing, causing pipes to freeze and burst, resulting in flooding and major water damage claims. Again, no one can control the weather, which explains why these claims are so common. Especially if your home is older, and may not have insulated pipes, these types of claims can be hard to avoid.
What you can do to protect your home is monitor the pipes consistently through the winter. Have a plumber come by before winter hits to make sure everything looks alright and there are no leaks. When it gets really cold, be sure to run warm water through the pipes every once in a while to prevent freezing. You can also insulate pipes if they aren't already, to help minimize the chances that your pipes will freeze or burst when freezing temps occur.
#3 Non-theft related property damage
From random events like a baseball going through the window to a tree falling on your home, non-theft related property damage is a large, and therefore commonly reported homeowner's insurance claim. There's not a lot you can do to prevent these sorts of claims, as they're typically random, and completely unpredictable.
Again, this is why homeowner's insurance exists: to cover your home from random property damage. If you're really looking for a way to keep your home safe, it's good to know that acts of vandasl often fall into this category. So, consider adding motion sensor lights to your home to scare off would-be vandals, and have a neighbor or friend drive by your home often when you're on vacation.
#4 Theft
Unfortunately, burglary and theft do happen, and they happen often enough that they're one of the top 4 most common homeowners insurance claims. Whether you've left for vacation or simply come home from work one day to find your door kicked open and your valuables gone, theft is frightening and often heartbreaking.
The best way to protect yourself from theft is to remain safe, and vigilant. Don't hide a spare key outside, consider investing in a home security system, and let people you trust know when you're going out of town. And it's important to take out coverage for expensive or precious items in your home, so you know you're covered if the those items are stolen.
Good homeowners insurance is important for your home, and for your peace of mind. If you would like a review or need homeowners insurance for the first time, get in touch with Doyle & Ogden's trusted insurance advisors.  We will work to find you the best coverage, at the right price.
Call our office at 616-949-9000 or contact us online for a free quote!
Social Share