Choosing Boat Insurance for the Great Lakes and Beyond
Perhaps you are considering purchasing a boat or have owned one for years. Either way, how can you be sure that your boat and your family are properly protected? In this article we will help you understand the liability that operating a boat presents and what types of coverage are available. Ultimately we suggest discussing these options with your insurance agent, as it is the first step in finding the coverage that is right for you. 
What type of boat insurance do I need?
There are two options for boat insurance: hull insurance and liability insurance.
Hull Insurance
Hull insurance covers physical damage to the boat, similar to car insurance. In order to start your policy you will need to know the value of the boat, the type of engine, and any other types of special equipment for your boat that you may want to cover.
Liability Insurance
Liability insurance for a boat works similar to liability only auto insurance. You can get liability only coverage for a boat if you don't want to cover the boat for any physical damage that may happen. 
For certain size boats, generally 26 feet or shorter with 25HP (horse power) engines or less, liability can automatically extend from your homeowner's insurance. There is no need to update your homeowner's insurance policy to cover a boat of this size or smaller, but it is important to remember this is liability only.
Does it matter which waters I want to use the boat in?
Where you take your boat can affect your coverage. Great Lakes, international waters, rivers, inland lakes, etc. Be sure to review with your agent if you plan to take your boat outside of your local area.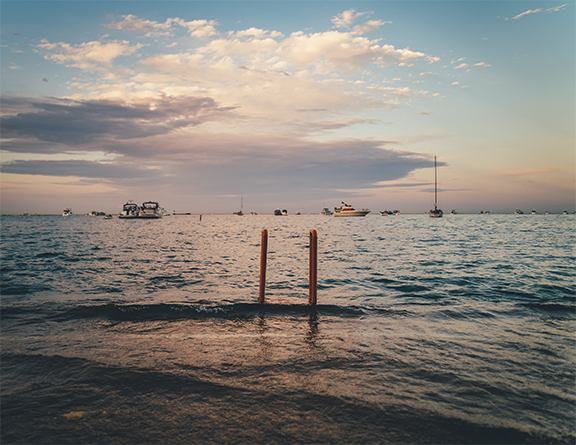 Are you required to get boat insurance in Michigan?
No, Michigan law requires all boats be registered but insurance is not required. If you have a loan for the boat, your lender will likely require you to carry hull coverage to protect their interest. If you are using your boat for commercial purposes, it is a good idea to have liability insurance to protect yourself. Although insurance is not required by law it is always a good idea.
Even for smaller boats when liability coverage can extend from your homeowners insurance, it makes sense to keep your boat on its own policy. For one thing, when you file a claim for your boat against your homeowners policy it will have a greater impact on your claims history and ultimately how your yearly premium is determined than if you had a separate policy for your boat. Standalone boat policy premiums are more stable even with a claims history.
Additional Coverages
Outboard motors should be scheduled individually on your boat policy. That way you have coverage when you take them off, store them, put them on another boat.
Towing coverage seems like something only for a car but did you know you can get towing for your boat? Just think, if your boat breaks down and you are stuck in the middle of a lake with your family, someone will have to come and bring you back to shore. What if you were stranded in the Great Lakes and had to call the Coast Guard to come to your rescue, can you imagine paying that bill out of pocket?
What if my boat is damaged?
You can choose different options for hull coverage when purchasing a boat policy. If you are required to purchase insurance because of a loan be sure you meet the lender's requirements. Without a lender the options on how to insure the physical value of your boat are up to you. Below are the main three options and how your boat will be valued at the time of a claim depends on which one you pick.
Actual cash value
This refers to the actual cash value of the boat at time of loss, depreciated given the use, age and condition of the boat. It can be determined on a flat depreciation schedule – so much % or amount loss per year. Your boat is compared to other inventory on the market that is similar to find a value. Actual cash value is the most commonly chosen option.
Replacement cost
Replacement cost means the policy will cover a new boat of like kind and quality at the time of loss. This will be a more expensive premium than one with actual cash value, as it guarantees a new boat versus the actual cash value.
Stated value
With stated value, you and the insurance company agree that the boat is worth a specific dollar amount. This will help determine your premium amount, as well as the predetermined claim payout or stated value. There is no negotiation on the amount paid out if something happens, as it has already been agreed upon by both parties.
Does my homeowners insurance cover a boat?
Certain boats can have liability coverage extended through a homeowner's insurance policy. We suggest scheduling your boat on its own policy. This way, any claims on the boat will not have an effect on your homeowner's claim history or premiums. If you own a boat and purchase a separate policy you will want to add it to your umbrella policy. Umbrella policies are strongly suggested for boat owners. Every time you operate your boat you have an opportunity to be held liable in the event of a collision, injury, or death for all parties involved. Whether you are pulling kids on a tube, boating around sea-doos and swimmers, or fishing alone, there is always an opportunity for the unexpected. An umbrella policy extends your liability from $1 million and up depending on the coverage you choose.
Does my car insurance cover my boat?
No, auto insurance does not include coverage for your boat. Most auto policies will extend liability only to a trailer when it is being pulled, however this does not include any damage that may occur to the trailer itself in an auto accident. Most boat policies include an option to add your trailer.
What about the personal property in my boat?
Most boat policies offer a minimal amount of coverage for the property you would keep in your boat like life jackets, wake boards etc. Many insurance companies will allow options for you to increase this amount if needed. Most homeowners insurance policies allow for a 10% extension of your personal property coverage for items when they are away from your house. However, you may still want to schedule high value items, specialty equipment or gear so that you are properly covered in the event of theft or loss.
Do boat trailers need their own insurance?
You only need to insure a boat trailer if you would like to have your insurance policy cover part or all of the cost of replacing it in the event that it is lost or stolen. Your auto policy most likely extends liability coverage for your trailer when you are towing it however it would not cover any physical damage or replacement for your trailer in the event of an accident. You have the option to insure your boat trailer on your boat policy.
How do I purchase boat insurance?
The agents at Doyle & Ogden Insurance are here to help you select the right coverage at the best price for your boat. Please call 616-949-9000 or contact us through the Doyle & Ogden site for a quick, accurate and personalized quote today!
Social Share